Career Development Workshop Series
Continue your professional development with #WorkshopWednesdays!
Join us every other month for virtual professional development workshops, designed to help early career scientists connect and plan their future careers.
Organized and moderated by the Career Development Subcommittee.
Series Sponsored by:

Next Workshop: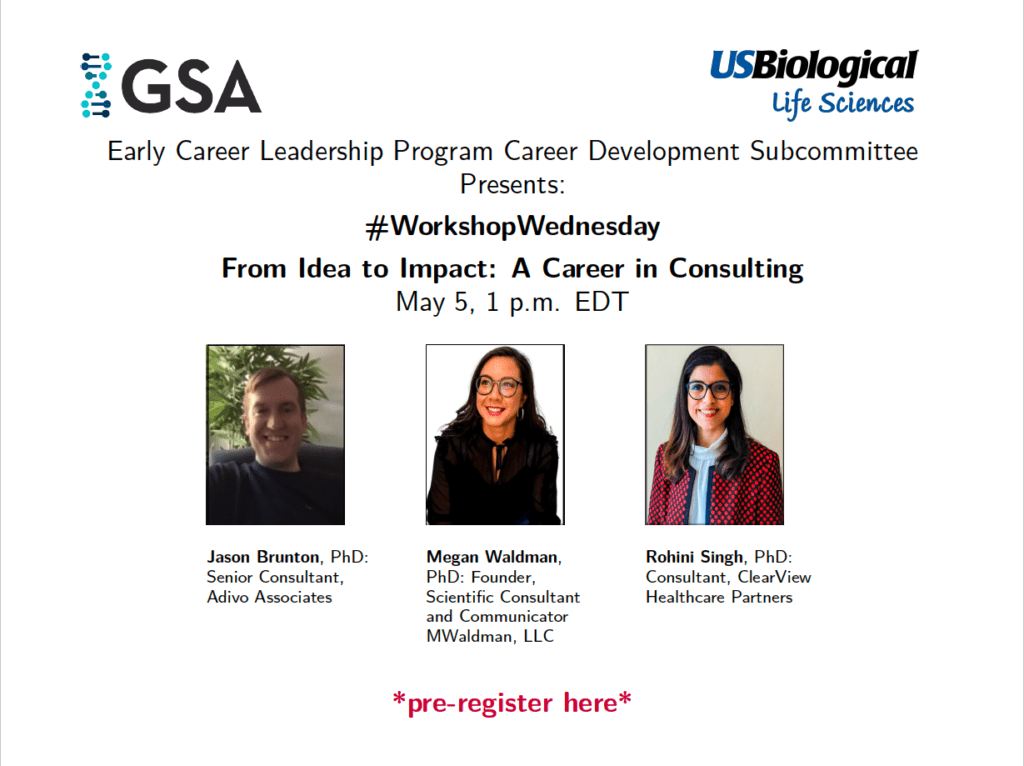 "From Idea to Impact: A Career in Consulting"
Wednesday, May 5, 2021, 1 p.m. EDT
Panelists:
Deepika Suri, PhD: Associate, McKinsey & Company
Rohini Singh, PhD: Consultant, ClearView Healthcare Partners
Megan Waldman, PhD: Scientific Communicator and Consultant, MWaldman, LLC
After registering, you will receive a confirmation email containing information about joining the meeting.
Upcoming Workshop Dates (all at 1 p.m. EDT):
July 14, 2021 – Careers in Biotech
September 1, 2021 – TBD
November 3, 2021 – TBD
Past Workshops
March 3, 2021: "How to Build a Career as an Editor at a Scientific Journal"
A discussion with professional editors Nonia Pariente, Editor in Chief at PLOS Biology, Mirna Kvajo, Chief Editor at BMC Biology, and Kusumika Mukherjee, Editor at Cell Press.
November 4, 2020: "Understanding faculty positions at primarily undergraduate institutions (PUIs)"
A discussion with PUI faculty Drs. Dianne Pater (@DiannePater), Terry McGlynn (@hormiga), and Priscilla Erikson (priscillaerickson.com).
September 2, 2020 How to pave your career path abroad: a guide for international scientists
A discussion with scientists Dr. Lakshmi Sundararajan and Dr. Mark Cronan and Immigration Attorney, Madeline Cronin.

July 1, 2020: "Hope is not a plan: How to proactively manage your career"
A discussion with Dr. CJ Neely, Certified Career Coach & Assistant Director of Career Education at Johns Hopkins University.
Footer