GSA Journals Peer Review Training Program
Get real-world peer review training and experience by participating in this innovative program!
New this year: Participants entering the program in 2024 will review for both GENETICS and G3: Genes|Genomes|Genetics
Applications are now closed. GSA members will be notified via email once the applications open in 2024.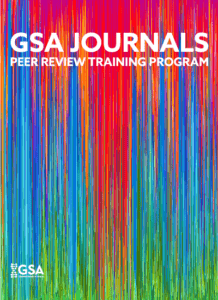 Peer reviewers are vital to science. Yet early career scientists in our field rarely receive formal training in how to be a good reviewer.
This uneven training means we're failing to prepare the next generation of reviewers. But it also means many students and postdocs miss the chance to develop skills central to their success: understanding the expectations of peer reviewers and editors, critical thinking, evaluating research, and providing constructive scientific feedback.
GSA and the GSA Journals are addressing this gap with a program that gives early career members real-world peer review experience. Participants will receive online training and advice from GENETICS and G3 editors as they become reviewers for manuscripts submitted to the journal. Former GENETICS Editor in Chief Mark Johnston has written about the impetus for the program on our blog, where we've also documented the program's successful pilot. You can read more about the program in The Scientist.
Early career scientists from anywhere in the world are encouraged to apply. We particularly welcome applications from members who lack opportunities to receive peer review training in their home labs or departments.
Program Description
This program is conducted online via Zoom; no travel is required. Participants complete approximately four hours of virtual training in which they:
Learn about scientific publishing and peer review
Learn to dissect a manuscript
Conduct a practice manuscript review
After training, participants will take part in the peer review process at GENETICS and G3, reviewing real manuscripts that match their expertise for a period of two years. Their reviews will be used in the editorial process and participants will receive the decision letter and the other reviews. The editors may also provide participant reviewers with feedback.
Program Timeline
| | |
| --- | --- |
| Application open | July 5, 2023–August 31, 2023 |
| Applicants notified of decision | December 2023 |
| Orientation session | February 2024 |
| Training session | February 2024 |
| Participants review GENETICS and G3 manuscripts | March 2024–January 2026 |
| Program end | January 2026 |
Eligibility
Senior graduate students, postdocs, and early career scientists within 7-years of having earned their PhD are invited to apply. Applicants should have published at least one peer-reviewed manuscript, preferably as the first author. Some peer review experience is preferred, though not required. Selected applicants will be asked to maintain an active GSA membership for the duration of the program though it is not required at time of application.
Selection Process
We seek a range of applicants, including early career scientists in academia, biotech, publishing, and non-profit careers. Some successful applicants may have significant experience in reviewing manuscripts whereas others will not. All participants will have previously published their own research in a peer reviewed journal.
Selections will be made by a committee composed of journal editors and staff. All applicants will be notified of their acceptance decision during the month of December 2023.
Application Process
Applicants should submit the following material via the application form (linked at the top of the page when applications are open).
A current CV, including publication list
An explanation of why you are interested in the program (maximum 250 words)
A short description of prior experience in scientific reviewing (maximum 250 words)
An abstract from one of your publications
Indicate which journal section(s) match your area of expertise. For the 2023 application cycle, the program is open for applications to the following sections:
Questions about the program or application? Email: peerreview@genetics-gsa.org
Learn more about career development at GSA
Early Career Leadership and Professional Development Program
Students, postdocs, and other early career scientists (ECS) are the future of the GSA community. To strengthen their voice in the Society, GSA developed the Early Career Scientist leadership and professional development program. This program provides rich opportunities for early career scientists to develop skills, gain experience, network, and produce concrete deliverables that demonstrate their abilities.
Career Development Symposia
GSA offers funding for student and postdoc members to organize local symposia that provide career and professional development opportunities for early career scientists. Examples could include career skills symposia, networking events, and scientific symposia with substantial opportunities for student and postdoc presenters.
Footer