Inclusive Public Engagement for Geneticists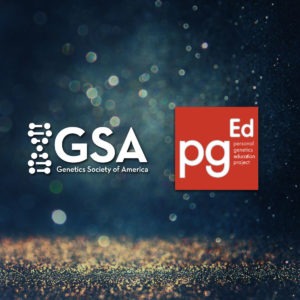 GSA and the Personal Genetics Education Project (pgEd) of Harvard Medical School have partnered to build public dialogue about genetic technologies. Our joint programs aim to better equip scientists to engage in discussions about genetics with all communities, with special emphasis on those who have been marginalized, economically disadvantaged, or otherwise excluded from conversations about science. Learn more about the partnership ≫
WEBINAR SERIES
Meeting the Moment: strategies for contributing to a broad conversation on genetics and society
Upcoming webinars in this series
Discussing Genetics: Reproductive Genetics
Wednesday April 14, 2021, 1:00-2:30 p.m. EDT
Reproductive genetic technologies, including preimplantation genetic diagnosis (PGD) and non-invasive prenatal testing (NIPT), can allow people to learn more about the DNA of an embryo or fetus than ever before. For some people, genetic testing in reproductive healthcare provides an important decision-making tool; for some, these tests raise a suite of practical, ethical, moral, and religious questions. And the advent of CRISPR is bringing hopes for a new generation of genetic therapies as well as concerns that germline editing could lead to a new eugenics, exacerbating disparities and stigmatizing people living with perceived disabilities.
Join pgEd to learn about their experiences and strategies for engaging with broad audiences — from high school students to communities of faith — in sensitive conversations about reproductive genetics. The webinar will include:
– Key considerations when discussing reproductive genetic testing
– Discussion strategies for engaging broad audiences and handling difficult moments
– An introduction to pgEd's lesson on reproductive genetic testing
– Interactive discussion and modelling of pgEd's conversation starters
Who should attend: Genetics or biology researchers or educators of any career stage, including students, postdocs, and faculty.
Dates of the following events to be confirmed.
Discussing Genetics: Genome Editing and the Environment
Wednesday, May 12, 2021, 2:00-3:30 p.m. EDT
Discussing Genetics: Collaborating with community partners 
Wednesday, June 9, 2021, 2:00-3:30 p.m. EDT
Discussing Genetics: DNA and Law Enforcement
Wednesday, July 14, 2021, 2:00-3:30 p.m. EDT
Past Events
Discussing Genetics: History of Eugenics
View Workshop Summary and Resource Packet
March 10, 2021, 2:00-3:30 p.m. EST
The history of genetics is deeply entwined with the eugenics movement. Some fear that today's genetic advances, despite the great potential for societal benefits, could lead to a new era of eugenics. How can geneticists invite inclusive discussions on this important topic in our classrooms, labs, and communities? Join pgEd to learn about their experiences and strategies for engaging with broad audiences — from high school students to communities of faith — in sensitive conversations about genetics and the history of eugenics. The webinar will include:
Key considerations when approaching the history of eugenics
Discussion strategies for engaging broad audiences and handling difficult moments
An introduction to the history of eugenics, as presented in a pgEd lesson
How pgEd has adapted their lessons to include more diverse communities and perspectives
Interactive discussion and modelling of pgEd's conversation starters
Who should attend: Genetics or biology researchers or educators of any career stage, including students, postdocs, and faculty
Video Highlights from Previous Webinars
Footer